GeM Seller
Pro
Elevate Your GeM Selling Potential with Precision and Ease
GeMSellerPro streamlines GeM Sellers' operations by automating bid reminders, securely storing data in Google Sheets, enabling personalized email communication, optimizing message timing, and enhancing overall efficiency, all while being accessible on mobile devices.
Get Started
Watch Demo
Unveiling the Power of GeMSellerPro
GeMSellerPro is not just a tool; it's a strategic companion that empowers GeM Sellers to navigate the complexities of the GeM ecosystem with confidence. Let's explore how GeMSellerPro can redefine the way you approach GeM selling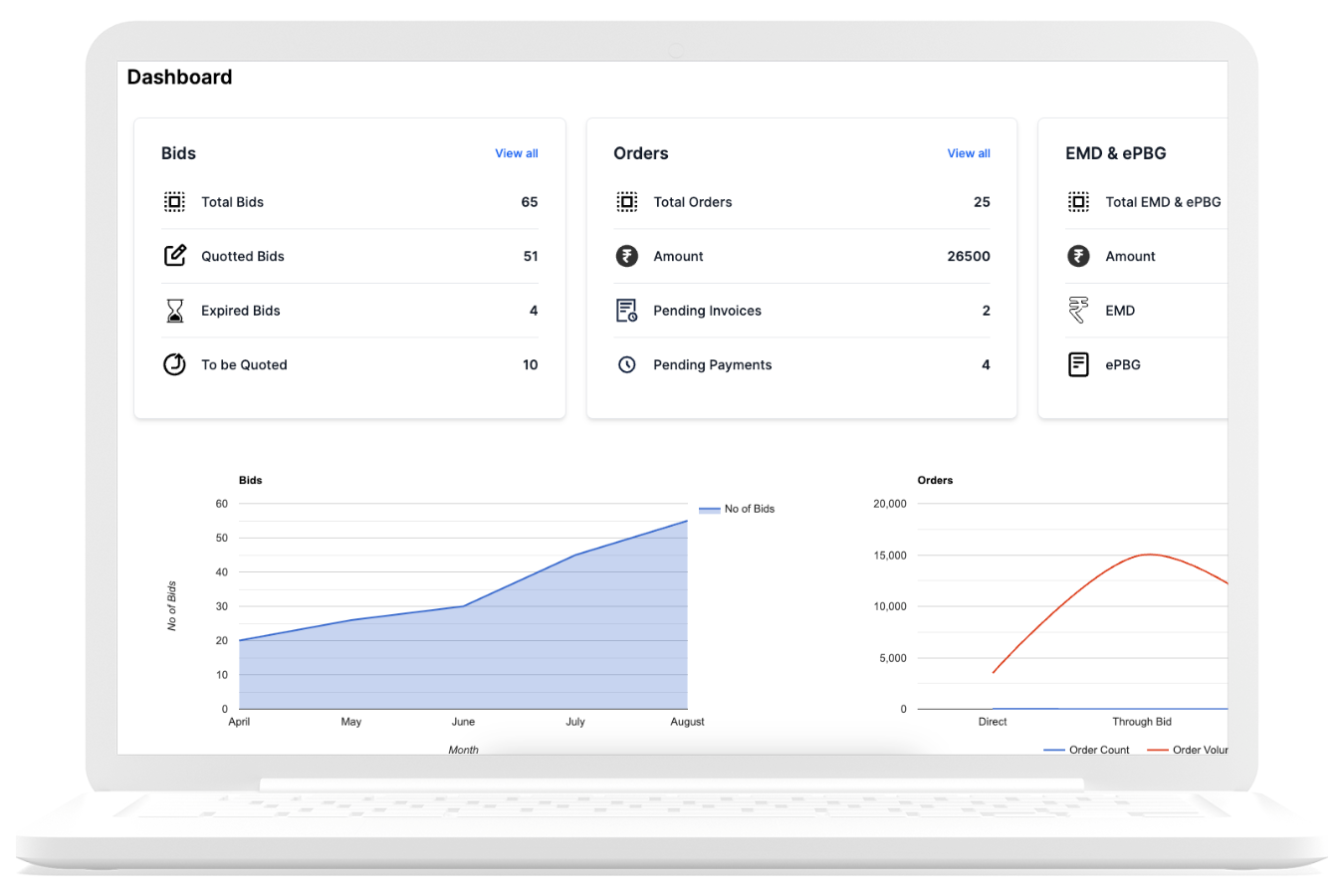 Visual Insights for Strategic Decisions
GeMSellerPro's dashboard offers comprehensive insights. Track your bid history, visualize order trends in graph view, and monitor EMD & ePBG status with intuitive pie charts. Make informed decisions and elevate your GeM strategy.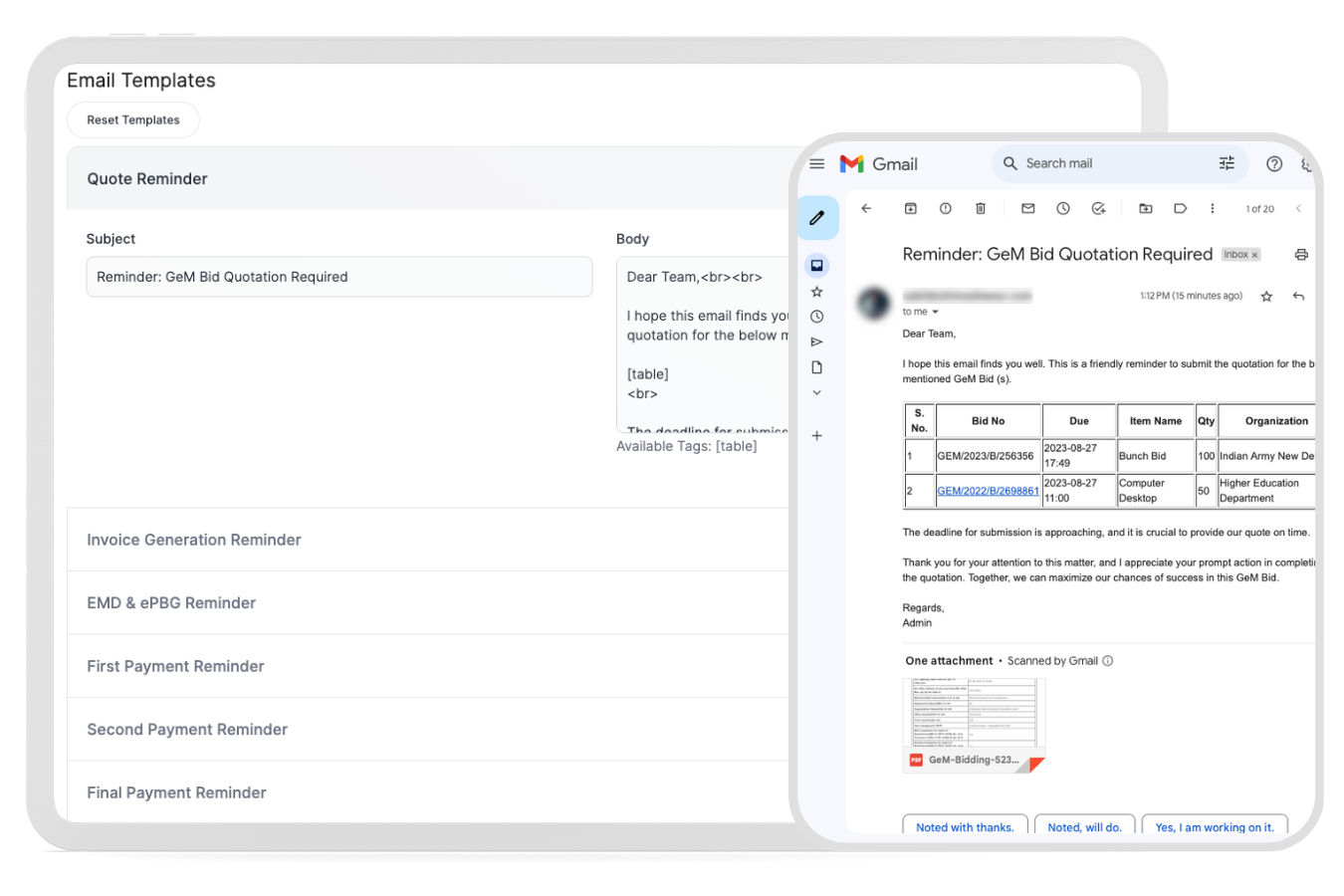 Never Miss a Deadline
GeMSellerPro's automated email reminders keep you on track. Bid due dates, invoice generations, and key deadlines are seamlessly managed, helping you seize opportunities and avoid oversights.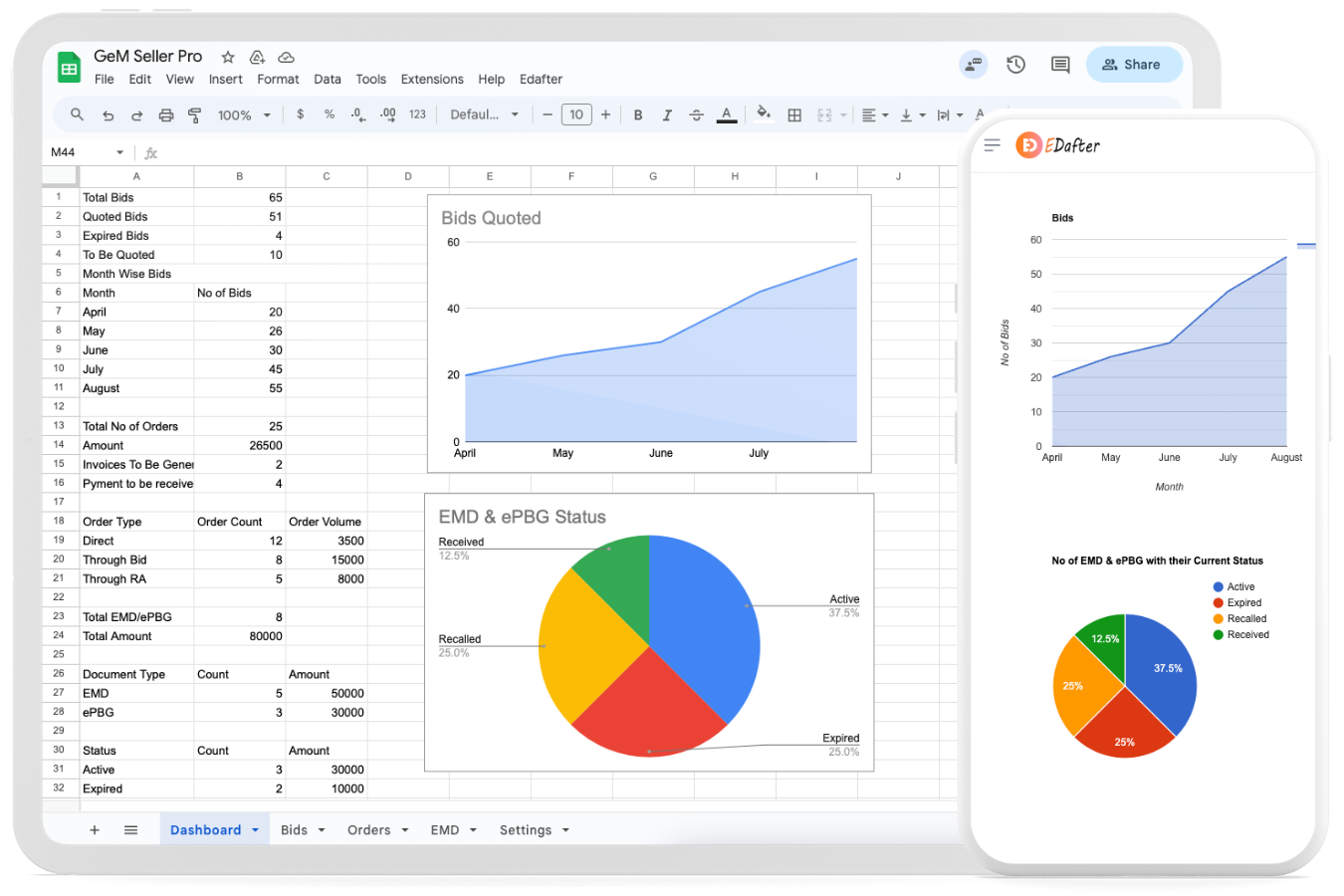 Your Data, Your Peace of Mind
With GeMSellerPro, your GeM data is stored securely in Google Sheets. Accessible from anywhere, this feature ensures data integrity while providing flexibility for your dynamic business needs.
Benefits That Matter
The advantages of GeMSellerPro extend beyond its features, addressing critical pain points faced by GeM Sellers
GeMSellerPro streamlines manual tasks, liberating your time for proactive business growth initiatives. With tasks automated and data accessible, you can focus on what truly matters.
Bid due dates, payment reminders, and critical notifications are no longer overlooked. GeMSellerPro's alerts are your fail-safe mechanism, safeguarding against missed opportunities and avoiding penalties
GeMSellerPro's personalized communication fosters stronger buyer relationships. Every interaction becomes tailored, relevant, and impactful, establishing trust and increasing buyer satisfaction.
Data Accessibility on the Go
In a digital age, access to data is paramount. GeMSellerPro's integration with Google Sheets grants you the ability to access your GeM data securely from any location. Whether you're in the office, at home, or on a business trip, your data is within reach.
Why Choose GeMSellerPro?
Intuitive User-Friendly Interface
GeMSellerPro boasts an intuitive interface designed for effortless navigation. No technical expertise is needed. From setup to daily use, the user-friendly design ensures a smooth experience, allowing you to focus on your GeM operations, not software complexities.
Efficient Data Management with GeMSellerPro
GeMSellerPro ensures your GeM data is efficiently managed for success. Centralize bid details, order histories, and communications securely in one hub. Automated processes reduce errors, while the integrated Google Sheets feature guarantees access from anywhere. Visualize trends through the interactive dashboard, empowering informed decisions.
Never Miss a Deadline with GeMSellerPro
GeMSellerPro keeps you on track by automating bid reminders and critical deadlines. Say goodbye to missed opportunities and penalties. Stay informed, prepared, and in control with GeMSellerPro's vigilant deadline management.
Expert Support at Your Fingertips
GeMSellerPro offers dedicated customer support to guide you every step of the way. From setup to troubleshooting, our experts are ready to assist, ensuring a seamless experience. Feel confident and supported as you navigate GeMSellerPro's powerful features and maximize your GeM selling potential.