The GeM portal gained a lot of popularity in the e-commerce industry. It has some unique features like government buyers, L1 functionality, Bid and RAs. However, this is not the only reason behind its popularity. The availability of a wide range of products and services also makes it unique on the market. Today, we are going to discuss some products and services.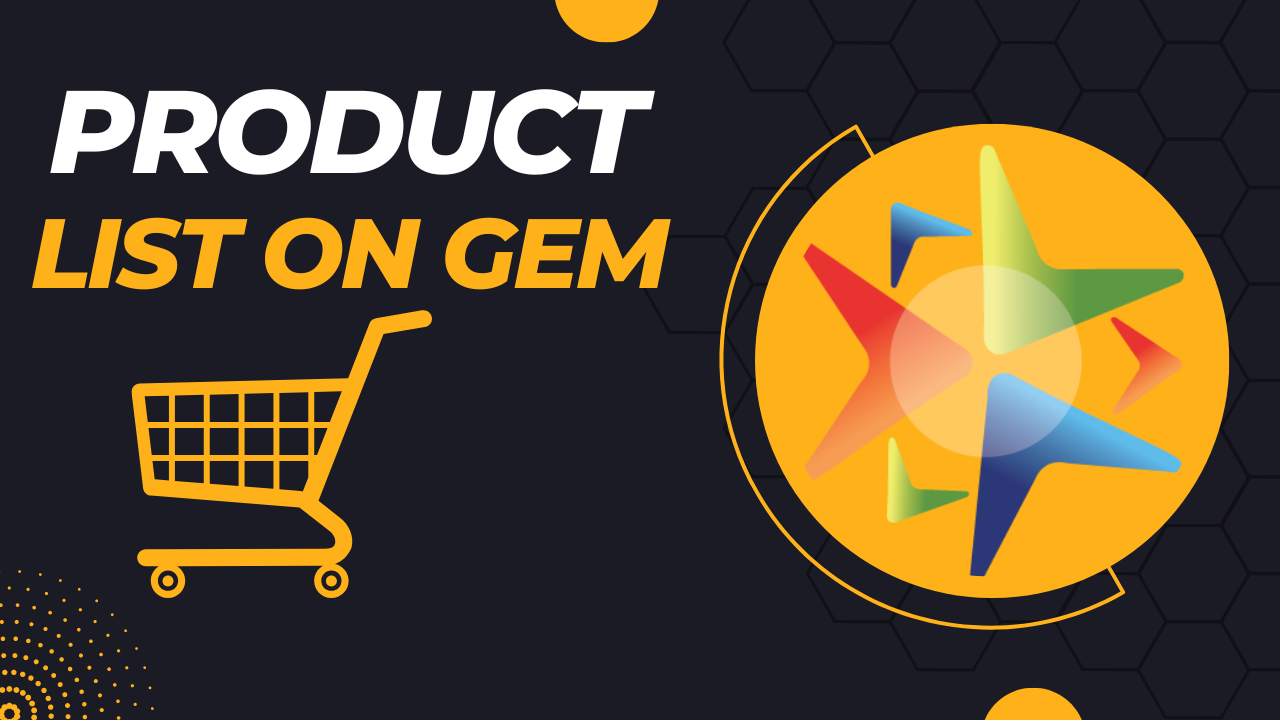 List of products on GeM​
The GeM (Government e-Marketplace) Portal offers a wide range of products, including but not limited to:
Office Supplies: Pens, pencils, paper, file folders, staplers, and other office supplies
IT Products: Laptops, desktops, printers, scanners, and other IT accessories
Stationery: Envelopes, diaries, registers, and other stationery products
Electrical Items: Switches, wires, cables, LED lights, and other electrical products
Furniture: Office chairs, tables, cabinets, and other furniture products
Medical Equipment: Medical kits, instruments, and other medical supplies
Security Equipment: CCTV cameras, biometric devices, and other security equipment
Vehicles: Cars, bikes, and other vehicles for government use
Construction Materials: Cement, bricks, sand, and other construction materials
There are currently 31 Lakhs+ catalogs listed on the GeM in 11 Thousands+ categories. You can find all categories here.
But what is the most important construction material? Coffee! Without that, 31 Lakhs+ catalog would never get built 😂.
List of Services on GeM​
The GeM (Government e-Marketplace) Portal offers a variety of services to government organizations, including but not limited to:
AMC (Annual Maintenance Contract): Services for maintaining and repairing machinery and equipment.
Pest Control Services: Services for controlling pests and insects in government premises.
Courier Services: Services for delivering important documents and parcels.
Transport Services: Services for transporting goods and equipment from one place to another.
Printing and Publishing Services: Services for printing and publishing documents and materials.
Training Services: Services for training government employees and personnel.
Consultancy Services: Services for expert advice and consultancy on various matters.
Advertising and Marketing Services: Services for promoting government schemes and programs.
Event Management Services: Services for organizing government events and functions.
Security Services: Services for security personnel and equipment.
List of Price of GeM Porducts​
The prices of products listed on the GeM (Government e-Marketplace) Portal vary depending on the product category and the seller. The GeM Portal is a competitive marketplace that aims to provide fair and transparent pricing for government buyers. This ensures that prices are in line with market rates.
And that's why we always say, "Shop smart, shop GeM!"
To get an idea of the prices of products available on the GeM Portal, you can browse through the product categories. You can also filter products by price range. The GeM Portal also allows you to compare prices of similar products from different sellers, making it easier to find the best deal.
It is important to note that the prices listed on the GeM Portal may not include applicable taxes, shipping charges, or other fees. These fees may vary depending on the location and quantity of the order. Additionally, prices may change over time based on market conditions and seller pricing strategies.
You can go to the GeM Marketplace to get the actual price of an item.
Overall, the GeM Portal is a transparent and competitive marketplace that aims to provide fair and reasonable prices for government buyers. This ensures that they get the maximum value for their money.
info
The World Bank reports that the average savings for buyers using the GeM Portal is 9.75% on the median price.